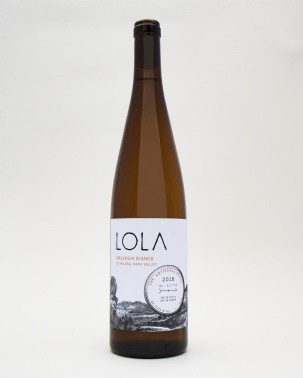 2020 LOLA Artisanal Series St. Helena Malvasia Bianca
Did you know that Malvasia Bianca is one of the world's most historic grape varietals?? It dates back to ancient Greece over 2000 years ago and today is often used by historians to track the migration patterns of early European settlers!!
LOLA Malvasia Bianca comes from the same vineyard as our Chenin Blanc, 45 year old vines on land planted in 1974 just north of the town of St. Helena in Napa Valley next to Revana and Grace Family Vineyards. The soil is bale clay on a slight east slope drainage toward the Napa River. The grapes are large and plump on densely packed clusters formed on a vertically trained canopy to allow for maximum manageability of the wildly vigorous vines! This wine is racked once at bottling and has minimal S02 additions of under 35ppm total from harvest to bottling, when it is bottled un-fined and unfiltered. The resulting wine is fresh, bright and crisp on the palate and intense floral aromas of Orange Blossom, Nectarine and Apricot.
This wine is a part of our raw artisanal series collection of wines that are only available to order direct from the LOLA property in Calistoga.